Home Inspection Services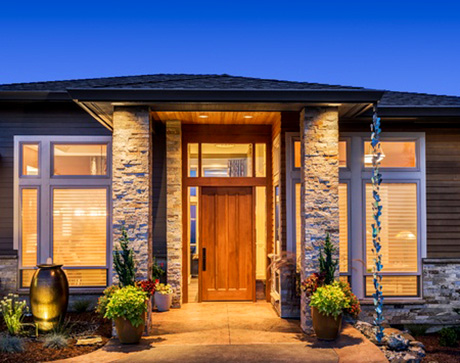 Home Sellers: Home Inspections can be ordered by the Home Seller in preparation for Listing their home for sale.
It's good to know the condition of your property
in order to make any necessary repairs
prior to putting it up for sale.
A smooth house sales transaction can often be facilitated by a properly prepared home seller.
Home Buyers: Home Inspections can also be ordered by the Home Buyer as a normal part of their due diligence when purchasing a home.
Knowing the condition of the home
you're considering buying is vital information
necessary for an informed decision.
We are happy to accommodate special requests. Give us a call to schedule your House Inspection or Rental Property Inspection.
Your Home Inspection will include:

Roof
Gutters
Skylights
Chimneys
Attic Insulation
Attic Ventilation
Framing and Siding
Doors and Windows

Plumbing System
Heating System
Electrical Systems
Mechanical Systems
Kitchen and Bathrooms
Laundry Facilities
Wood Stoves
Fireplaces

House Foundation
Basement and Crawl Space
Decks, Porches and Balconies
Parking and Walking Surfaces
Retaining Walls and Handrails
Lot Grading & Drainage
Garages and Carports
We also include Maintenance and Repair Recommendations too!

Infrared Thermal Imaging:

Flir Infrared Thermal Imaging: Accurate House Inspections also provides state of the art Flir Infrared Thermal Imaging, which provides a unique perspective in a House Inspection.
Infrared Thermal Imaging, when needed, can highlight the differences in wall temperatures from cool to warm, which can indicate either moisture within a wall or the lack of insulation.
Ask Laurie about the possibility and benefits of adding
Infrared Thermal Imaging to your Home Inspection.
Laurie Lacovetsky has been a Licensed, Certified and Insured Home Inspector since 1990, and provides detailed and thorough written Home Inspection Reports usually within 24 hours. Accurate House Inspections provides the peace of mind that a Home Buyer or Home Seller needs to make an informed decision.
House Inspection Rates:
Typically the cost for a Home Inspection starts at $500 to $600. Rates vary depending on the location, size, age and condition of the home.
A detailed House Inspection typically takes anywhere from 2 to 4 hours. You will receive a detailed and thorough written report of the inspection usually within 24 hours.
To find out more about Home Inspections, and please check out these pages:
House Inspections – Realtors & Inspections – About Us
We are happy to answer any questions. Give Laurie a call or email today.
Laurie Lacovetsky
Accurate House Inspections (604) 741-7766
Serving the Sunshine Coast, BC and surrounding islands.